Travel
Åland is an autonomous demilitarised, Swedish-speaking region of Finland. It consists of more than 6500 islands and skerries. The population is 28 007 inhabitants, of whom 11 190 live in main city Mariehamn.
In collaboration with Eckerö Linjen and Viking Line we are offering free travel by bus and ferry, single and return, to Åland from Stockholm, Uppsala, Turku and Helsinki to everyone who registers for Windjammers Ball 2011.
You will receive the free travel booking codes for Eckerö Linjen and Viking Line in your registration confirmation email.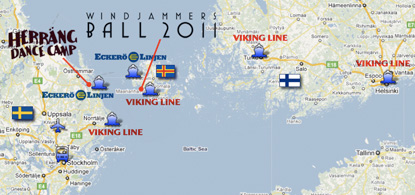 Visit Windjammers Ball Google Map to see which route suits you best for travel to Åland. You can find all the information about booking travel with Eckerö Linjen or Viking Line and how use the codes below.



Viking Line to Åland
Viking line is offering free travel to Windjammers Ball participants. You can take a boat to Åland from either Turku or Helsinki on the Finnish mainland, or from Stockholm or Kapellskär in Sweden.
To get from Stockholm to Kapellskär take the Viking Line bus from Cityterminalen, the journeytakes about 1,5 hours. The ferry from Kapellskär to Mariehamn takes 2 hours.

To make your reservation email: gruppmar@vikingline.fi. You will need your free travel booking code, the full name, year of birth and nationality of all passengers and your telephone number.
Travel options:
1. Passenger tickets single & return Kapellskär/Stockholm/Turku/Helsinki - Mariehamn
2. Passenger tickets Kapellskär - Mariehamn + bus from Stockholm to Kapellskär single & return
3. Passenger tickets + car ticket single & return Kapellskär - Mariehamn
Note! No free car tickets available on the Sunday 18:30 from Mariehamn.
You can also book a hotel or hostel through Viking Line.
See Accommodation

More information about Viking Line: www.vikingline.se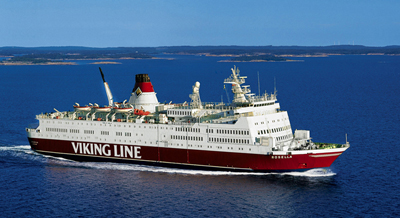 Eckerö Linjen to Åland
Eckerö Linjen offers all Windjammers Ball participants who travel from Sweden to Åland free tickets! Eckerö Linjen operates the shortest sea route between Åland and Sweden, it takes only two hours. It's comfortable and free! Onboard their smorgasbord delicacies, musical entertainment and tax free shopping await you.
To receive the free tickets you have to pre-book by phoning +46 175 258 00, (press 1), or by sending an e-mail to privatresor@eckerolinjen.se. You need to use the special booking code that you'll receive when you register for the Windjammers Ball.
By using the code you can choose the following alternatives:
A. Passenger tickets single & return
B. Passenger tickets + bus from Stockholm/Norrtälje/Uppsala to the ferry single & return
C. Passenger tickets + car ticket single & return
Williams Buss handle the connecting journey between Eckerö ferries and Mariehamn. Buses depart from the bus station in Mariehamn, one hour before the boat's departure and from the ferry to Mariehamn after every ferry arrival. Bus fares: Eckerö - Mariehamn, single 4.40€ / Mariehamn - Eckerö, single 4.40€
Eckerö Linjen - Timetable
27.5 2011 - 14.8 2011:
From Grisslehamn daily at 10.00, 15.00, 20.00.
From Eckerö daily at 8.30, 13.30, 18.30.

15.8 2011 - 8.1 2012:
From Grisslehamn daily at 10.00, 15.00. Thu-Sun also at 20.00.
From Eckerö daily at 13.30, 18.30. Fri-Mon also at 8.30.

You can also book accommodation through Eckerö Linjen.
See Accommodation

More information about Eckerö Linjen: www.eckerolinjen.se