Classes
Ca 10 hours per level of Lindy hop and Authentic Jazz
including tasters in Balboa, Tap and Charleston

Registration opens Friday at 14:00
| Schedule | Friday |
| --- | --- |
| 16:00-18:00 | Classes (only Beginners) |
| 16:00-17:00 | Taster |
| Schedule | Saturday | Sunday |
| --- | --- | --- |
| 09:00-09:50 | Audition Int adv & Adv | |
| 10:00-11:00 | Classes | Classes |
| 11:15-12:15 | Classes | Classes |
| 12:15-13:30 | LUNCH | LUNCH |
| 13:30-14:45 | Tasters | Tasters |
| 15:00-16:15 | Classes | Classes |
| | | |
Subject to changes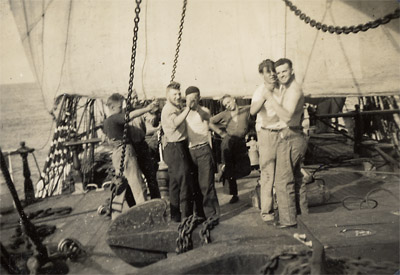 *Photo: Ålands sjöfartsmuseum

Lindy hop levels
Beginners
No previous knowledge is needed, just bring your dance shoes and your will to learn and we will take it from there.
Beginner/Intermediate
At this level you have danced for at least ten hours of classes. You are expected to be in control over both eight counts and six counts and have the ability to lead or follow a few simple figures.
Intermediate
You have danced for around a year. You should be able to mix the two different basic steps without a problem and being in control over how to lead or follow the differences between them both. You love being on the social dance floor and take every opportunity to practice.

Intermediate/Advanced
Your dance connects to the music more and more. You have a good variety of figures. You can lead / follow clearly. You should be able to manage slow tempo as well as more up tempo. Your technique and basics should be at the level where you can use different rhythmical variation and improvise.
Advanced
You have danced for more than 3 years. Your life is filled with lindy hop. Classes, camps, parties, all the time. You have no problem leading, following, making improvisation to really fast music. You cannot count how many moves you know. You have your definitive dance style that makes your dance different. You can express musicality, mood and your personality.


SWINGKIDS - workshop för barn och ungdomar
14 augusti
Dansa Lindy hop och prova på att spela 1930-talets partymusik swing!
Som en del av swingdanslägret Windjammers Ball erbjuder vi alla barn och ungdomar mellan 7 och 13 år möjligheten att vara med och dansa och jamma. Undervisningen sker på svenska, inga förkunskaper krävs!

Workshopen kostar 30 €. I priset ingår även inträde till kvällens thédans 16:30 - 24:00 i betalande målsmans eller annan vuxens sällskap.

Anmäl ditt barn till Windjammers Ball Swingkids genom att ringa Sofia på telefon +358 (0)457 342 5590 eller mejla info(at)mildredsswingskola.ax Uppge barnets namn och födelseår, eventuella förkunskaper i Lindy hop eller annan dans, om barnet spelar något instrument samt om ditt barn är medlem i SKUNK intresseorganisationen för ungdomar i skärgården. Uppge även telefon, adress samt målsmans namn.
Varmt välkomna till Windjammers Ball Swingkids!
Preliminärt schema Swingkids, söndag 14 augusti 2011:
13:00 - 14:15 Workshop i dans eller musik
14:15 - 14:45 Fika
14:45 - 16:00 Workshop i dans eller musik