Windjammers Ball
The swing dance camp Windjammers Ball brings together Åland's sailing ship era and the golden age of jazz.
Åland had the world´s largest sailing ship fleet between the 1920s and 1940s. The windjammers circumnavigated the world, they sailed across the oceans with saltpetre from Chile and wheat from Australia, rounding Cape Horn on the way back to Mariehamn's west harbour, their home port.
For almost thirty years the windjammer Pommern sailed the oceans, until the outbreak of World War II. She set her sails as a merchant ship for the very last time on August 11th 1939 and left from Spurn Point in Hull, England, homeward bound for Mariehamn.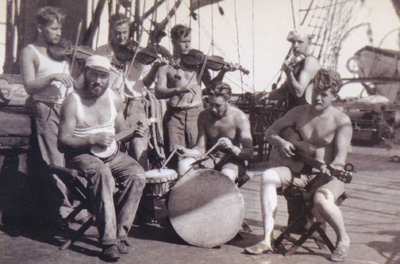 *Photo: Pommerns arkiv / Mariehamns Stad
With the opening ceremony on the Pommern and the evening festivities in Badhusparken in the west harbour, the all-ages, non-alcoholic event Windjammers Ball also has classes and workshops during the day from beginners to advanced level with the world's leading swing dance teachers. In the evenings, which are also open to non-dancing guests, you can dance with Lindy hop and swing dancers from near and far to the best swing jazz bands in the world.
There was a time when the sailing ships of the Åland Islands travelled the oceans. At the same time swing was king. Windjammers Ball will reunite them in a new golden age of jazz. Take an active part in culture and history:

Feel the call of high canvas, join us at the Windjammers Ball!


Co-organiser of Windjammers Ball 2011





Windjammers Ball 2011 is supported by







Windjammers Ball 2011 Travel partners




Windjammers Ball 2011 Media partner


Windjammers Ball 2011 Swing Talks in association with





Windjammers Ball 2011 Café in association with




Windjammers Ball 2011 Volunteering in association with


Windjammers Ball 2011 Internet and computer supplier





Windjammers Ball 2011 Transportation in association with



Windjammers Ball 2011 *Photos by





Windjammers Ball 2011 - sailing with Albanus in association with




Windjammers Ball 2011 - stage props supplier





Windjammers Ball 2011 - working material supplier

Windjammers Ball 2011 - fresh fruit supplier


Windjammers Ball 2011 - stationery supplier




Windjammers Ball 2011 Transfer Bus by

Windjammers Ball 2011 Flower decorations by