Festivities
The festivities will take place in Mariehamn city hall, which was designed by the architect Lars Sonck and built 1939. Visiting address: Torggatan 17.


ON STAGE

Mimi Terris (SWE)
Gentlemen & Gangsters (SWE)
Hornsgatan Ramblers (SWE)
Red Beans & Rice Jazz Band (AX)

DJ Janne (SWE)
DJ Mitya (RUS)


| | | |
| --- | --- | --- |
| SCHEDULE | | |
| | | |
| FRIDAY | 19:00 > | Registration opens at the city hall of Mariehamn |
| | 19:00 - 02:00 | Dance Party - Live bands & Swing DJs + Café |
| | | On stage - Band Battle 21:00 |
| | | Red Beans & Rice Jazz Band vs. |
| | | Hornsgatan Ramblers with Mimi Terris |
| | | |
| SATURDAY | 20:00 - 02:00 | Dance Party - Live band & Swing DJs + Café |
| | | On stage - 22:00 |
| | | Gentlemen & Gangsters with Mimi Terris |
| | | |
| SUNDAY | 13:00 - 18:00 | Dance Party - Swing DJs + Café |
| | 20:00 - 23.30 | After party and dinner at Umbra (drop in from 18.30) |

Gentlemen & Gangsters - Saturday 22:00

Gentlemen & Gangsters play hot jazz with all the flair and sophistication of true gentlemen, coupled witzh the ruthless brutality of hardened gangsters.

Like a devious conspiracy from a bygone era, this shady syndicate of jazz kingpins plot for world domination from their secret location in a run down part of Gothenburg. Armed with drumsticks instead of knuckle dusters and trombones instead of tommy guns these deranged masterminds spread mayhem, joy, and decadence wherever they go. You might have heard about them, you might even recognize some of the members from their more legitimate enterprises, and maybe you thought it was all just a rumor; after all - could such a band really exist? How could society allow it? How could they possibly have escaped the vice squad? Or even disease control, given the infectious jazz music that they are spreading? Well folks, all you need is a speedy getaway vehicle and a secret lair and the contraband jazz business is as easy as pie!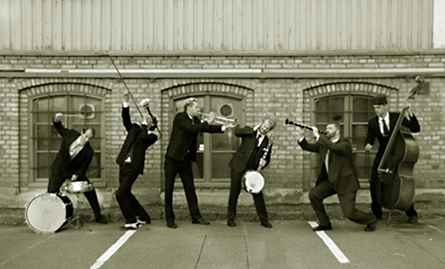 Hornsgatan Ramblers - Dancers with instruments - Friday 21:00

Hornsgatan Ramblers is made up of swing dancers, who one day decided that they wanted to do more than "just" dance to the music. This is their story:

After having danced to swing music for years, we decided that we wanted to learn how to play it. Some of us had never played a musical instrument before and those who actually knew how to play an instrument – well, they had to learn how to play another. That way, when we started, we were all on the same level technically, and could move forward as a band, together.
It took quite a while, but after lots and lots of practice, and searching for songs and material with the right edge to them, we eventually found a sound that suited us. We play swing music with a feeling that lends a rough edge to it. We play jazz, yes, but with a punk rock approch to it; we don't mind getting our fingers dirty. Less polished and about as far away from music conservatories as one can get. Street Jazz would be one way of putting it.
When the songs that we play were frequently aired on the radio – the "hits" of that time – they were often concidered provocative and immoral. Just like Rock'n'Roll, Punk Rock, Hard Rock, and Hip Hop that was to follow. The music was hated by some – and the meaning of life to others, as it is to us. Everything we do has the spice of the more or less legal ballrooms of New York in the thirties and forties – mixed with a dose of street jazz.
Several of the band members dance in renowned swing dance companies Harlem Hot Shots and Midnight Rounders. Some of us teach swing dancing, and have won and judged numerous dance contests all over the world. By playing the music that we love to dance to we explore it further and reach a deeper understanding of it. And we're having a hell of a time at it!






Red Beans & Rice Jazz Band - Friday 21:00
Music you can't resist is a good description of "The Red Beans".
- Our mission is to make people happy, says Ove Andersson who plays the banjo. While their repertoire is based mainly on classic traditional jazz from New Orleans (1920-1940), the band doesn't hesitate to reinterpret folksongs, evergreens and popular music with a jazzy groove. The band has the traditional line up: drums, tuba, banjo, trumpet, trombone, clarinet and lead singer, all in all seven musicians on stage.
Red Beans & Rice Jazz Band was founded in 1987 and will celebrate its 25th anniversary 2012. Over the years members have come and gone but original member Joakim Sjöroos (trombone) is still playing today. As well as many appearances on the Åland Islands, the band has performed at festivals in Finland and Sweden.
Even though the Åland Islands have a trad jazz digging population "The Red Beans" is the only active traditional jazz band on the Islands. - Though hopefully that's going to change now, following the interest in Lindy Hop sweeping over the Islands, all thanks to dancers and teachers Sofia Enros and Daniel Johansson, says the lead singer Maria Stenberg. Maria is not the only female member of "The Red Beans": the band also proudly presents Inger Marie Sundblom on the trumpet.